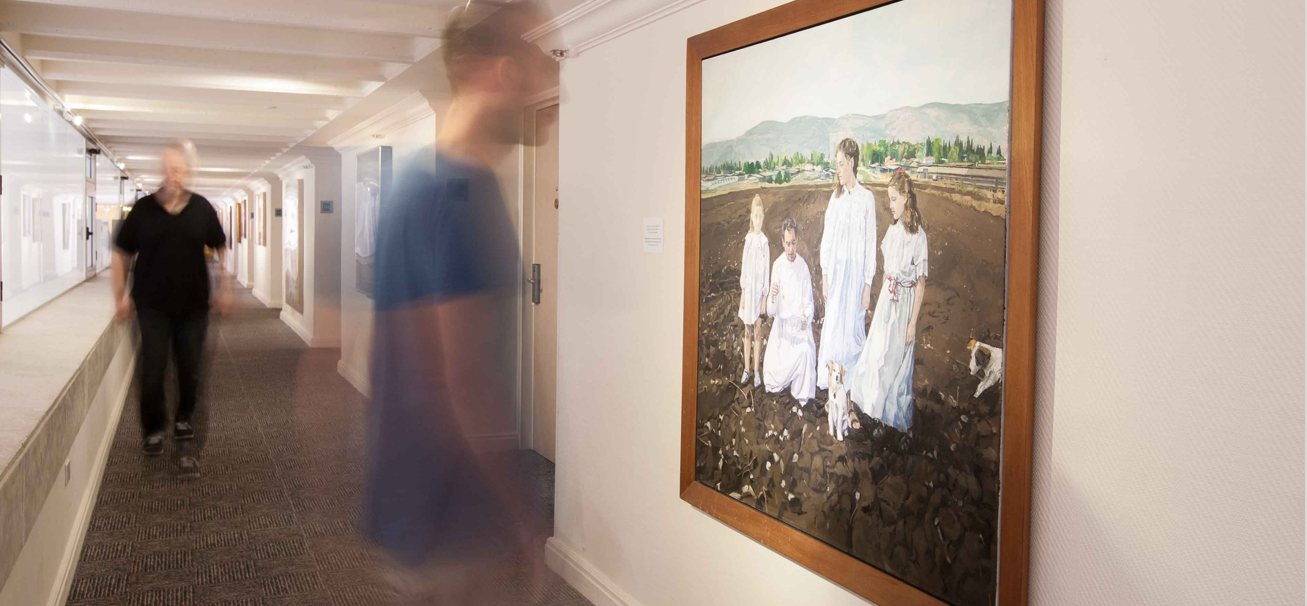 Pink Figure
Dubi Shiff Art Collection Selected artworks exhibition
Gordon Beach Hotel
Hang on the pink walls of the Gordon Beach Hotel, you may find 200 artworks selected from the Dubi Shiff Art Collection, one of the largest and most renewed private art collections in Israel, focusing on Figurative-Realist art. Among the works are new acquisitions to the collection, presented here for the first time.
The various artworks exhibited manifest the wide range of the Figurative language. This can be seen in works following traditional themes such as Landscape, Portraits and Still Life, as well as in works that step away from traditional painting and adhere to the contemporary art scene. The exhibition is open to hotel guests as well as to the wide public. We wish to offer you the opportunity to become acquainted with artists working in the Figurative-Realist genre, with an emphasis on Israeli artists.
"Artists have always known that art can show us truths about reality that words fail to capture […] This is where the Shiff Collection exhibition comes into play. This collection of contemporary figurative and realist paintings unfolds an enlightening vista before the viewer, a broad look at the various strains and tributaries of contemporary realist art."
(From: Who's Afraid of Realistic Art?, Dr. David Graves, Exhibition Catalog)
 In 2008 'The Haim Shiff Prize for Figurative Realist Art' was established in collaboration with the Tel Aviv Museum of Art. Among the exhibited works, one can find works by past recipients of the Prize: Amnon David Ar (2008), Maia Zer (2009), Eran Reshef (2010), Orit Akta (2011), Eldar Farber, Sigal Tsabari (2012(, David Nipo (2013), Leonid Balaklav (2014),  Ofer Rotem (2015), Fatma Shanan (2016), Matan Ben Cnaan (2017), Samah Shihadi (2018), Tigist Yoseph Ron (2019), Yisrael Dror Hemed (2020), Shira Zelwer (2021) and Roni Taharlev (2022).
This is the fifth exhibition from the Shiff collection to be exhibited in the hotel (formerly 'Marina Hotel' and 'Leonardo Art Hotel'), which will be replaced from time to time to accommodate new acquisitions to the collection. The exhibition is accompanied by a catalogue which you may use during an independent tour. Alternatively, we welcome you to join one of our guided tours and to discover the stories behind the collection and the exhibition.
You may find further information at the front desk.
Enjoy your visit!
Iris Barak,
Curator of the Dubi Shiff Collection
Gordon Beach Hotel – 1st floor
Gordon Beach Hotel – 2nd floor
Gordon Beach Hotel – 3rd floor
Gordon Beach Hotel – 4th floor
Gordon Beach Hotel – 5th floor
To coordinate guided tours please contact:
Tel: +972-(0)3-5211777, art@fattal.co.il
Additional Reading:
Dr. David Graves
"Who's Afraid of Realistic Art?", 2012
Dr. Aya Lurie
"On the Definition of the Portrait and its Boundaries in the Dubi Shiff Art Collection"